This is a guide to configuring PACS/VNA integrations if you have Butterfly Link, which is a capability available for Enterprise customers. Please consult System Integration: Butterfly Link Installation if you do not have an installed Butterfly Link.
The following actions are available to users with Read & Write permissions for Connectivity Management in their Butterfly Access Roles.
Setting Up a New DICOM Destination
Navigate to the Integrations menu from Enterprise settings. Select the "Connectivity" section and scroll down to the "Integrations" section.
Click the '+ Add' option next to Integrations and select PACS/VNA to create a new DICOM endpoint.
Enter a friendly name for the DICOM end-point that you are adding, this name will be visible for endpoint selection throughout Butterfly software. For the Connection Type - select the appropriate Butterfly Link Connection.
A DICOM configuration screen will display after you have selected the Connection.
Proceed to enter all of the necessary DICOM connection parameters: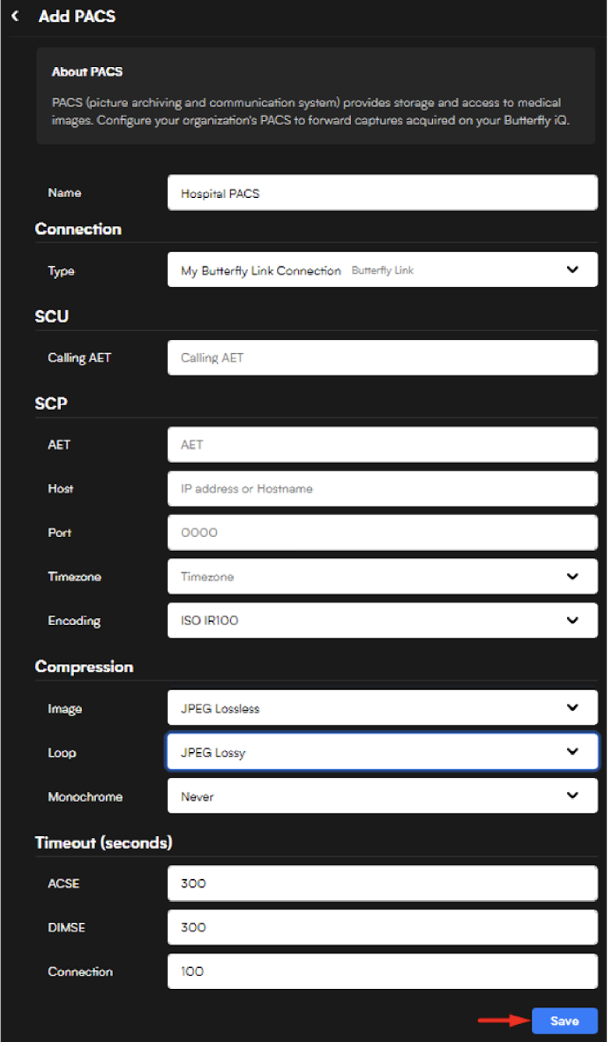 Name - A friendly name for the DICOM connection in Butterfly.
SCU Calling AET - Specifies Butterfly's Application Entity title.
SCP AET - Specifies the Application Entity title of the destination.
Host - Specifies the IP address of the destination DICOM device in relation to Butterfly Link.
Port - Specifies the listening port of the destination DICOM device in relation to Butterfly Link.
Timezone - Defines the timezone of the destination.
Encoding - Specifies the UTF-8 encoding of character sets for DICOM headers.
Image Compression - Specifies the transfer syntax that will be used when sending images to a destination.
Loop Compression - Specifies the transfer syntax that will be used when sending cines to a destination.
Monochrome - Specifies whether grayscale is applied to all outgoing images.
ACSE - Specifies association timeout length.
DIMSE - Specifies timeout after an association is created.
Connection - Specifies network timeout.
Click Save when complete.
Notes On Setup:
The IP address must correspond to the DICOM end-point that is accessible from the computer hosting the Butterfly Link software.
If Hostname is used then it must be resolvable by the computer hosting Butterfly Link.
If your PACS/VNA is not operating in promiscuous mode, then you will need to add the Butterfly Cloud AE title as an approved DICOM source.
Please be aware that the PACS will see the IP of the server hosting Butterfly Link as the source of DICOM data from Butterfly Cloud.
Configuring Automatic Forwarding
Within Butterfly Cloud you may set up auto-forwarding rules for finalized studies to send to PACS/VNA. Studies will be transmitted once they are in a finalized state.
Navigate to the archive settings page where you would like to set up automatic forwarding.
In the PACS forwarding section you may select any of your configured PACS/VNA DICOM endpoints. Selection is limited to 3 DICOM endpoints.
Changes do not need to be saved and take effect immediately.
Note:
Forwarding finalized studies to PACS applies only to studies finalized after PACS Forwarding is configured. This will not retroactively send finalized studies to PACS. You can send finalized studies in a one-off basis by accessing the "Endpoints" section on a finalized study.