This is a guide to configuring Modality Worklist (MWL) integrations with Butterfly Link, which is available to Butterfly Enterprise customers. Please consult System Integration: Butterfly Link Installation before if you've not already setup Link.
The following actions are available to users with Read & Write permissions for Connectivity Management in their Butterfly Access Roles.
As the SCU, Butterfly Link can execute a MWL query command to any destination that's been configured with AE title, IP Address and Port.The MWL query results are immediately uploaded to Butterfly Cloud for association on studies.
Setting Up a New MWL
The Integrations menu is located in Enterprise settings from the Connections tab, immediately below the Connections section.
Click the '+ Add' option next to Integrations and select MWL to create a new Modality Worklist connection.
Proceed to add a friendly display name for the EHR connection.
Select the relevant Butterfly Link.
Proceed to enter all of the necessary DICOM connection parameters.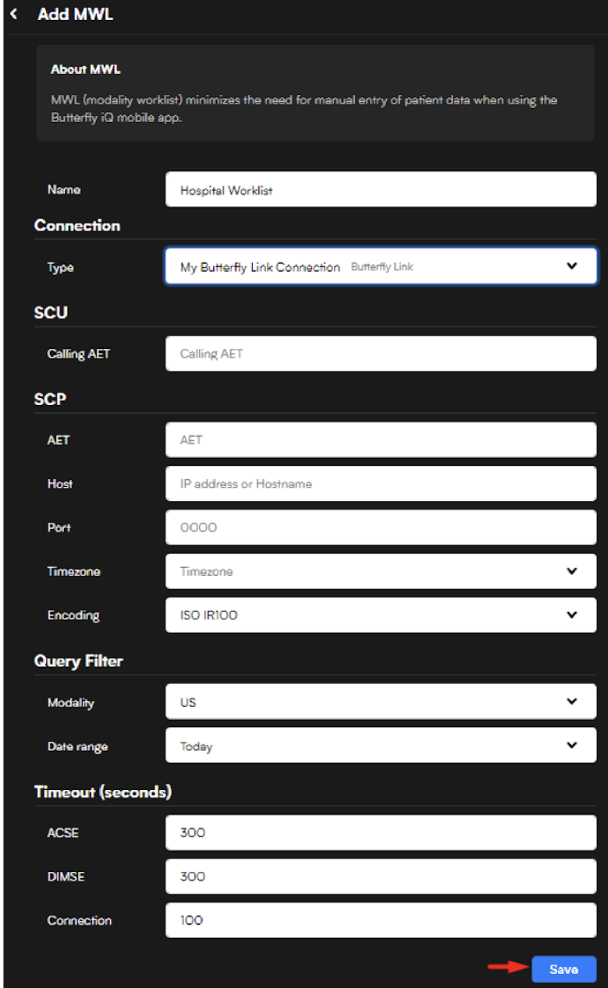 SCU Calling AET - Specifies Butterfly's Application Entity title.
SCP AET - Specifies the Application Entity title of the destination.
Host - Specifies the IP address of the DICOM device with worklist relative to Butterfly Link.
Port - Specifies the listening port of the modality with worklist relative to Butterfly Link.
Timezone - Defines the timezone of the modality providing the worklist to ensure appropriate MWL items are returned.
Encoding - Specifies the UTF-8 encoding of character sets for DICOM headers.
Modality - Defines the modalities for MWL retrieval.
Date Range - Specifies the timeframe for MWL retrieval.
ACSE - Specifies association timeout length.
DIMSE - Specifies timeout after an association is created.
Notes:
The IP address must correspond to the DICOM end-point that is accessible from the computer hosting the Butterfly Link software.
If Hostname is used then it must be resolvable by the computer hosting Butterfly Link
Click Save when complete
Associating a MWL with an Organization for Patient Association
Butterfly Cloud allows up to one patient association method per organization.
Navigate to 'Enterprise Settings' and the 'Organizations' section. Select the 'Settings' option of the organization where you'd like to set up a patient association method.
Select 'Connectivity' and from the Primary Worklist dropdown select the appropriate MWL.
Save and the patient association method will take effect immediately.